A lot of users really liked the green guitar that I posted on my last update. The thing is, that wasn't really a guitar, it was a
Synthaxe
, a guitar midi controller. That is how come he could get all of those outrageous synth sounds from the "guitar".
I decided to inform all of you on how to achieve the same idea, using a guitar to control virtually any instrument via MIDI.
Synthaxe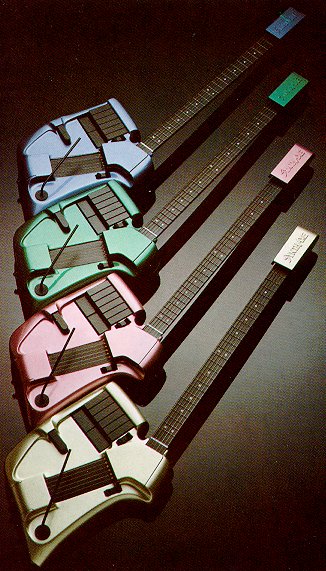 The Synthaxe is an instrument designed in the 80's by Bill Aitken. It has superior tracking and versatility, as it divided the fretboard sensors into 6 individual sectors The instrument is equipped with two pads for your left hand, one that is similar to a keyboard (for sustaining chords etc) and one that is similar to a guitar that may be plucked. This instrument is also equipped with a breath controller for superior dynamic control and shaping. The only drawback of this guitar is it's availability and price. Because they are not manufactured anymore, they are extremely hard to find. If you somehow find one, they will cost upwards of 5,000 dollars. The probably worst issue is that nobody left is qualified to repair them, so they will eventually break down.
Roland MIDI Pickups
My guitar teacher had one of these, they have 6 slots on the pickup; One for each string. You can get a bunch of really good sounds out of it. However I heard that because it is "translating" audio waves into midi signal, that the lower the pitch of sound, the slower it responds. So, on the high strings, it's sounds flawless; But on low e there is a couple of milliseconds of lag. These connect initially to a Roland GR-20 or GR-55, so you can't just get the pickup and connect directly to midi. But after, the Roland box, you can direct it to you DAW and use just about any VST you can think of. These are available everywhere, but remember that you still have to buy the Roland Box for it to work. These cost around 800 dollars bundled together. Parker makes the Parker Fly MIDI, that comes with the pickup pre-installed. As does Carvin guitars, on practically any model.
Sonuus G2M
Sonnus G2M or boxes similar, directly turn audio input from your guitar into MIDI signal. These can be plugged directly into your DAW to control any vst. These are about 100 dollars everywhere. They are slow and purely monophonic, I guess they would be used for melodic playing.
Akai EWI
The EWI is a breath controller that that mimic wind instruments like the Saxophone, Clarinet and Trumpet in playability. You again connect via usb to your DAW to utilize any sound you have on a VST. They are fast and expressive. If I was better at wind instruments I would definitely get one of these. They cost either 300 dollars for the bare bones model, or 700 dollars for the superior version that you can connect directly to your mixer.